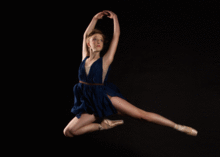 Lake Tahoe Dance Collective Repertory Showcase
An evening celebrating​ a ​diversity of style including both contemporary work and the legacy from pioneers who paved the way for today's talented choreographers. Featuring guests Calvin Thomas and Daiane Lopes da Silva.
Performances will feature a diverse program including Founding Artistic Director Christin Hannas Haydn Symphony No. 87 with guest principal Calvin Thomas (Cincinnati Ballet, Ballet Austin), Erick Hawkins Heyoka (1981). Additionally, guest artist Daiane Lopes da Silva of Kinetech Arts will present her solo Reset, and a world premiere, FaceTime, by Deborah Lohse (Doug Elkins Dance).
Hannas Haydn Symphony No. 87 kicks off a compelling and beautiful evening off dance. Presented in in partnership with the Lake Tahoe Music Festival last August, Hanna has added a third section, the Allegro Vivace. This airy and classically-driven romp through Haydns score offers LTDCs dancers a chance to showcase their virtuosity in neoclassical ballet. It is also highlighted by guest Calvin Thomas in the male principal role along with LTDCs own Elena Prisco in the female principal role.
Friday, April 7, 7 pm
Saturday, April 8, 2 pm & 7 pm
Sunday, April 9, 2 pm
Tix $20 student;senior/$25 adult at http://www.brownpapertickets.com/event/2857951
---