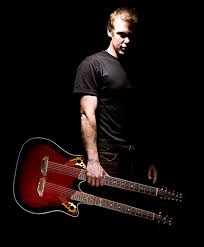 Ian Ethan Case w/ Special Guests
After a performance that blew us away last year, we had to bring back musician extraordinaire Ian Ethan Case for an Earth Day show! This performance will again feature drummer/percussionist G Maxwell Zemanovic and new this time - special guest harpist Motoshi Kosako.
The concert is part of a coast-to-coast tour in support of Ian's most recent solo album "Run Toward The Mountains." Concertgoers can expect to hear a wide range of material; the double-disc album features the two sides of Ian's playing: "straight up solo acoustic", and at the other end of the spectrum, his meticulously-crafted live looping compositions which make full use of 21st-century digital technologies to enable seemingly infinite layers of sound and sophisticated on-the-spot orchestration that extends well beyond the reach of most looping performers. Ian will also feature pieces from his upcoming album "Earth Suite."
Acoustic double-neck guitarist Ian Ethan Case has been performing in listening rooms across the country for the past eight years and is increasingly gaining recognition both for his unique instrumental compositions and for the highly original playing methods which are required to perform them.
One of only about five musicians worldwide to tackle the double-neck guitar in earnest, he fluidly combines a variety of self-invented playing techniques necessitated by his multi-layered compositions, which, taken together, have begun to establish the instruments musical validity perhaps more so than the work of any other artist. While audiences consistently remark on the fascinating visual aspects of watching Ian play as he rambunctiously weaves between fretboards, slapping and tapping the sounds of the guitar to life seemingly effortlessly in a style that youve likely never seen before (Port Orchard Independent), his unusual methods are simply byproducts of the rich, heartfelt, and powerfully uplifting music that he composes.
---