Alpenglow Sports: Leif Whittaker
Alpenglow Sports partners with the premier outdoor publisher Mountaineers Books to bring Leif Whittaker to Tahoe. Leif brings a fresh perspective on a famous father and a legacy forged on the icy slopes of Mount Everest, the world's highest peak.
In 1963, the world followed the first American Mount Everest Expedition, and watched as "Big Jim" Whittaker became the first American to stand on top of the world. He returned home a hero.
"My Old Man and the Mountain" is Leif Whittaker's engaging and humorous story of what it was like to "grow up Whittaker"—the youngest son of Jim Whittaker and Dianne Roberts. He shares glimpses of his upbringing and how the pressure to climb started early on. Readers learn of his first adventures with family in the Olympic Mountains and on Mount Rainier; his close yet at times competitive relationship with his brother Joss; his battle with a serious back injury; and his efforts to stand apart from his father's legacy. With wry honesty he depicts being a recent college grad, still living in his parents' home and trying to find a purpose in life—digging ditches, building houses, selling t-shirts to tourists—until a chance encounter leads to the opportunity to climb Everest, just like his father did.
Leif heads to Nepal with all the excitement, irony, boredom, and trepidation that are part of high-altitude climbing. Well-known guides Dave Hahn and Melissa Arnot figure prominently in his story, as does "Big Jim." But Leif's story is not his father's story. It's a unique coming of age tale on the steep slopes of Everest and a climbing adventure that lights the imagination and fills an emotional human endeavor with universal meaning.
Gather with us at the Tahoe Art Haus Cinema on Thursday, April 13th for a multimedia presentation, Q&A followed by a book signing with Leif. Event starts at 7 pm, doors open at 6:30pm. Tickets are $10.00 http://www.brownpapertickets.com/event/2873357. Ticket will be available at the door day of event.
About Leif Whittaker: Leif Whittaker seeks adventure in all aspects of life. Born in Port Townsend, Washington among the glaciated spires of the Olympic Mountains, he reached his first major summit when he was 15 years old. He has since climbed many of the world's tallest mountains, including Aconcagua, Mount Vinson, and Mount Everest twice. Mountaineering is not his only passion. His love of skiing, rock climbing, sailing, kayaking, rafting, hiking, photography, and food has led him to many remote corners of the globe. He is a talented writer and photographer whose work has appeared in various media worldwide, including Powder, Backcountry and The Ski Journal. His first book, My Old Man and the Mountain, will be published by Mountaineers Books in October, 2016.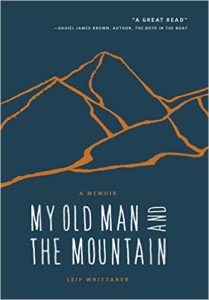 ---